Mexico's sports betting industry provides a great variety of interesting choices. Important to know, that despite dozens of sportsbooks and racetracks, most of the sports bettors in Mexico prefer to place bets on unlicensed markets. The most favorite sport for betting in Mexico is football. Nevertheless, Mexicans also like horse racing, boxing, golf, basketball, volleyball, and other kinds of sports. Mexicans also like online sports betting sites that feature local sporting events, like charreada (bullfighting) and Basque Pelota. Cockfighting is also a very popular sport here. It was even once featured in Daily Mail.
It's very difficult to take into account all online betting sites presented in Mexico, especially in the scope of the Mexican sports culture. Nevertheless, in this article, we will try our best to present you with only an honest side of online sportsbooks in Mexico.
Is sports betting legal in Mexico?
Mexican sports betting is legal, and there are various licensed sports betting companies both land-based and online. Online betting is a growing industry in Mexico, and the Interior Ministry provides licenses to gambling sites almost without restrictions. Nevertheless, unregulated gaming is still a force to reckon with. Therefore, if you like betting in Mexico, you'd need to know that a site has a license before making your first deposit.

Mexico allows legal sports betting within its borders and sports bettors will face no prosecution for betting. At the same time, bettors must understand that their rights reserved for winning are protected by law. Despite the official attitude towards betting, the lawmakers in Mexico have made several attempts to pass comprehensive betting reforms. The truth is that the gambling industry in Mexico is regulated by the 1947 Federal Games and Draws Law, which is pretty old. These laws comply with Section X of Article 73 of the Constitution of Mexico.

Land-based casinos started to launch online sportsbooks since 2004. Starting from that year, a lot of online gambling and betting sites started to sign partnerships with Mexican land-based casinos. According to the law, a licensed online sportsbook should obtain "Federal Mexican Gaming Permit". The most popular Mexican gambling operators that have this kind of permit are Prognosticos, Loteria Nacional, the National Lottery, LVFH, and IMSC.
What about the safety of Mexican betting?
Before you go into free bets with Mexican betting, it's important to know all possible issues with the safety. According to the various reviews on the betting sites in Mexico, bettors there must be careful.

The license is always a good measure of trust for any website, but due to the local laws and problems with these laws, it's better to find online sports sites that also have licenses from other regulatory agencies, like the UK, the US, Malta or Gibraltar. These countries provide the most trusting regulatory licenses in the world.

By the way, you may also need to read feedbacks about online gambling sites to find out the best one for you
Mexican betting sites — withdrawing and depositing
When you have selected your online sports for betting, you will need to make a deposit before placing bets. This country accepts peso deposits, but other currencies are also available. Unfortunately, the websites of this country do not target locals. That's the reason some online gambling sites allow deposits in peso, but still, ask to place bets in other currencies. As a result, if your deposit is in peso, then you may have to convert your money from peso to any other currency, then back to peso.
Due to the proximity to the USA, most payment methods that work in America, also work in Mexico. For instance, American Express, Visa, and Master Card. Most bettors who play in Mexico use check by counter and bank transfer withdrawal methods. By the way, in 2017, some sports betting sites in the country allowed to bet on bitcoin and other cryptocurrencies.
Bitcoin. Depositing and withdrawing in Bitcoin is becoming more and more popular in Mexico. This peer-to-peer virtual currency has already started as the safest and most secure way of payment in the country.
Bank Transfer. It's the safest way to send your money from a local bank to any Mexican betting website. The local transfer may take from 1 to 3 days. The international transfer can take up to 5 business days. At the same time, the limit for the money transfer may vary from one bank to another.
American Express. It's one more great way to deposit money on Mexican sports betting sites. American Express also has a variety of bonus programs that can be close to the heart of any gambler.
MasterCard. MasterCard provides secure transfer between financial institutions in over 210 countries in the world. Therefore, it's a secure method to transfer money from any point in the world.
Visa. This type of credit card is issued in over 20,000 financial institutions around the world. Mexico is not an exception. With millions of Visa clients in Mexico, it's fairly easy to make money with them.
SecureCode from MasterCard. This type of transaction adds an additional layer of security. In this case, you can add a security code that only you and your financial institution know.
Visa Verifier. It's similar to the SecureCode from MasterCard. Visa Verifier is just an extra password that makes transactions more secured.
Neteller. It's an eWallet with instant payments starting from $200.
Entropay. It's a virtual card with fantastic possibilities, and instant payments starting from $200.
Astropay. It's similar to Neteller and Entropay. The starting transfer is $200.
Courier Check. If you are looking for the most convenient withdrawal method, then a courier check is your best option.
Mexican Gambling history
Before any online gambling sites started to emerge in Mexico, this country had already had a long story with betting. Online gambling sites came to the perfect land because Mexicans just like to place their bets.
The very first noticeable historical facts about betting in Mexico can be traced back to the Aztecs or even Mayans. For instance, the Mayan nobles liked to play the Mesoamerican ballgame. The bad news is that losers of the game could be sacrificed to the gods. The good news is that winners could stay alive and live another day.
In the Aztec Empire, people liked to wager on the game called ollamalitzli. According to some historians, landlords and even kings could wager big sums on ollamalitzli. There was even an Aztec Emperor who placed his entire year's income on this game. The Aztecs could also teach how to play ollamalitzli in their schools and even import over 16,000 rubber balls per year for that game.
In the 19th century, the border between Mexico and the United States was very popular for various casinos and betting events. The market was huge and there was almost no adult without interest in gambling or betting.
In the 1920s, Mexico provided the gambling place for American tourists, all resorts there catered casino games. In 1937, Mexico banned casinos, but not for a long time. Ten years later, land-based casinos again opened their doors to visitors from all around the world. Starting from the 2000s, Mexico started to acknowledge online gambling websites. For today, the Mexican gambling market is quite robust with such operators, like Kambi, IGT, and NetEnt.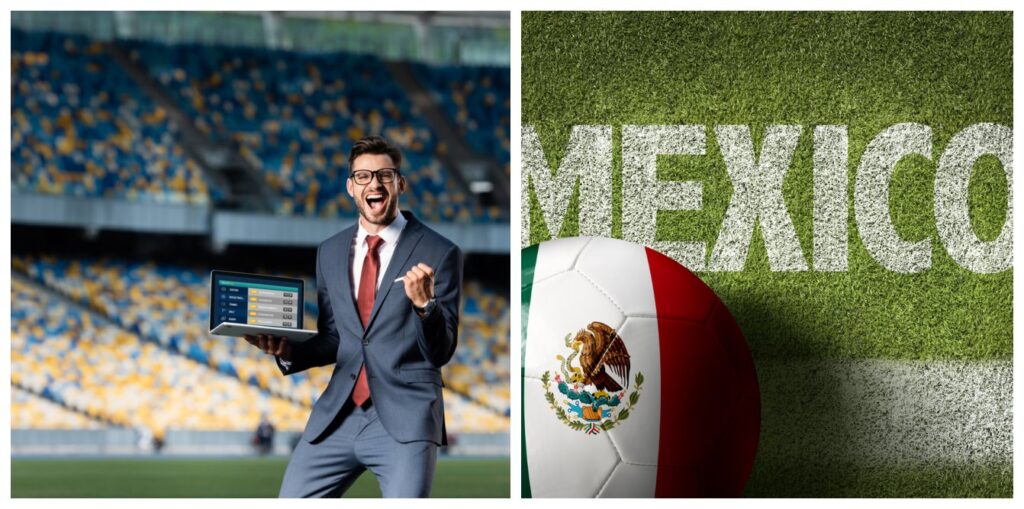 Top 10 best Mexican online betting sites
Bodog
It's one of the best online sportsbook companies in Mexico. When you choose to play on Bodog, you will get quick and easy deposit options with up to $200 sign up bonus. Bodog is not just a simple sports betting bookmaker that your grandpa used to play in the days of his youth, no. Bodog is the place to find great lines of your favorite sports, including football, baseball, ice hockey, tennis, and other fantastic sporting events. You can also wager on UFC, Politics, and even Esports. Bodog can show you a great way to win cash by placing bets. Moreover, the live betting option is also featured with free bets bonuses.
BetOnline.ag
What is good about BetOnline.ag? It's the killing sign up bonus that can be as big as $1000. BetOnline.ag is focused on bettors who want to win a lot. This site has over twenty years of experience in betting. The main sports of the website include Martial Arts, Auto Racing, Baseball, Football, Basketball, Golf, Soccer, Table Tenis, and other sports. The site also provides various ways to reach its customer support 24/7. Therefore, you will not have any problems contacting the support team if something happens.
Betway
Betway presents an easy to use In-Play platform in the world of online sports betting. In other words, you can bet on games while they are played. The first deposit can be up to $200. Betway can offer you to place bets on over 30,000 markets available on the platform. This website is available almost anywhere in the world. Therefore, you can make your bets from anywhere in the world. There are also various bonuses and loyalty programs for new bettors. The UK bettors can also take away 30 pounds in free bets from the site.
Betway is also treated as the best horse racing betting site not only in Mexico but in the world.
Spin
Spin sports is one of the most trusted sites in the country with almost all major American Sports. There are also high odds for each game. The bonus that you get when the deposit can be up to $400. Live betting is one of the most interesting options for new players. In many cases, prematch wagers are outdated. It's more interesting to place bets on the go, then wait for the results. InPlay wagering gives you that opportunity and even more. Spin sports operate according to the gambling laws of Mexico, so you don't need to worry about anything there.
Bumbet
Its sign up bonus can be up to $150. It's primarily focused on Brazilians, but Mexicans also like to play on this online betting site. It usually allows us to place bets on more than 15,000 sporting betting events. The free bets can be placed almost on every major league, like Brazillian Championship, Bundesliga, Europe League, UEFA Champions, NFL, and many more. Bumbet allows various payment methods on the platform, like MasterCard, Bitcoin, American Express, Bank Transfer, and Visa. Enter more than 700 leagues over 18 different sports.
Intertops
Intertops usually gets a 5-star rating for its services. It has a great variety of bonus offers, fantastic mobile experience, customer service available 24/7 for any country, fast payouts, and other great bonuses. The deposit methods are also very extensive and include ECO card, American Express, Bitcoin, Paysafecard, Check, Bank Transfer, and others. Intertops offer more than 4,000 daily wagers.
PinnAcle
This website provides great value odds and offers high limits. The reputation is way ahead over PinnAcle. You can make your wager on various sports betting events, like soccer, badminton, cricket, darts, MMA, basketball, and football. Live betting is the best offer that you can get at PinnAcle.
888sport
It's a sports branding gambling site under the brand of Cassava Entreprises. 888sport is accepted by various gambling authorities around the world, including the Gibraltar Gaming Comission and the UK Gambling Commission. The site operates in 11 different languages with fast & secure payment options. The "Cash In" option on the site allows you to settle wagers before the final results of the game. 888sport accepts various payment methods, like DineroMail, Neteller, and others.
Bet365
Bet365 offers a fantastic experience in online gambling. Bet365 is super easy to navigate and play around. Banking on the website also seems to be very simple. In other words, you can deposit or withdraw your money in no almost no time. By the way, the customer support works 24/7. Bet365 works not only in Mexico but also in more than 180 countries in the world. That means that you will have hundreds of betting markets.
Betsafe
Betsafe started its history in 2006. It has several betting licenses, including Malta Gaming Authority and the UK Gambling Commission. Betsafe offers different variants of sports betting and other interesting features. The customer support works 24/7. Live streaming is also available on the platform. By the way, you can also download the Betsafe mobile sports app. It's a more convenient way to gamble or bet on sites.
Conclusion
Hope you have found everything you need to know about gambling on sites in Mexico. Take a look a t these sites and find which one is good for you. By the way, most of the above-mentioned sites have mobile apps for iOS and Android, sp you could place your bet from any place via your phone.
Last updated on April 13, 2022